Issue 8 / Sept 2010
Welcome to the Tiare Films newsletter.
In this issue a few quick reminders and new wedding films.

| | |
| --- | --- |
| | Contents |
Wellington Wedding Show - This Sun 3 Oct
A reminder that the Spring Wellington Wedding Show is on this weekend at the Overseas Passenger Terminal (next to Waitangi Park in the City).
Doors open at 10:30, and the show is a great way to find those finishing touches for your wedding this Summer - or to get a head start on your plans for 2012!
Unfortunately we're not able to make the show this year - as we're filming weddings in Rarotonga until the end of October. However, we're back in NZ from early Nov, so there's still plenty of time to get in touch if you're considering a wedding video.
Watch (new) wedding films
We've recently added new highlight films to our website - including weddings from all around the Wellington Region and from some fantastic locations in Rarotonga.
A highlight is a 'condensed' version of a full-length film - and it's the perfect way to share your wedding film with family and friends.
Tiare Films on Facebook
We're now on Facebook - so if you're looking for wedding inspiration, 'Like' our Facebook Page and we'll let you know when new films are added to our site, of special offers, and wedding planning (and filming) tips.
Tip: Lighting is an important part of creating a great wedding video - but it also affects the mood of your guests. Good lighting of your reception venue and dance floor will keep your reception going into the wee hours of morning.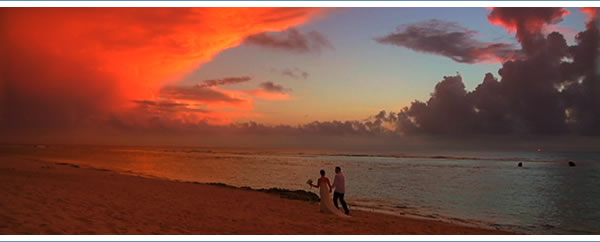 Video still: Kiri and Duane's wedding - A spectacular sunset at The Edgewater.
Book your wedding film today
A wedding video is the best way to capture a day to remember and we still have a few dates available for the 2010/11 wedding season.
To arrange a free consultation, contact Justine - justine@tiarefilms.com.
Feedback
Thanks for reading our newsletter. If you have any feedback or questions about filming your wedding we'd love to hear from you.
Kia manuia, and all the best with your wedding plans,
-Justine & Andy, Tiare Films
Subscription - sign-up to the Tiare Films newsletter email newsletter@tiarefilms.com.
Pass it on - if you know someone planning a wedding, please forward them this newsletter.
Get in touch - Tiare Films: Wedding Videography
04) 3800 800 - tiarefilms.com - 93 Rintoul St, Newtown, Wellington.