Our style: How we capture a day to remember
Our background is in documentary filmmaking. Creating a film that captures your day is about drawing on this background along with having an 'emotional eye' – using intuition and experience to guide who, what and how we film.
We like to meet and talk through the details that are important to you. Whether it is the venue; a key part of your ceremony; the gathering of family and friends; or the music, food and festivities at your reception.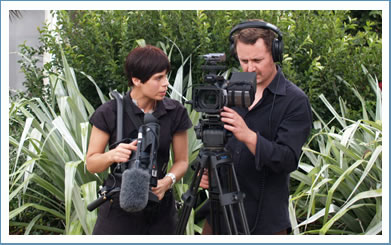 On location in New Zealand.
Jacquie and Teva's wedding, Kapiti Coast
Filming with an emotional eye
We're 'people' people, so if you happen to see us while we're filming, you might see Justine wipe away a tear during a heartfelt speech; or Andy smiling behind the camera as the music starts for the first dance (his favourite part of the day).
If our films make you smile, laugh or cry, it's likely that we were feeling those same emotions behind the camera while we were filming – or remembering the emotion of the people around us when crafting the edit.
Editing: Telling the story of your day
For us, editing is about telling the story of your day.
Justine weaves together the moments that we've filmed; audio (such as your vows, readings, speeches, and live music); along with music tracks that you have chosen.
…the greatest compliment we receive is that watching our films "feels just like being there".
The result is a film that you'll be proud to share with family and friends. One of the greatest compliments we receive is, that watching our films, "feels just like being there".
To find out if we're the best people to capture your day, take a look at our films. Online we have a number of short highlight films you can watch. We're also happy to show you some of the films we're made for other couples over a cup of coffee (or ice-coffee in Raro).

We look forward to meeting you.
-Justine and Andy, Tiare Films